Anheuser Busch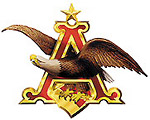 As a part of its Responsibility Matters community giving program, Anheuser Busch's Los Angeles facility donated $10,000 to TDRBCF to support our breast health education and early breast cancer detection screening programs.
Anheuser-Busch supports organizations that improve lives, strengthen youth and families, and address the many health issues our society currently faces. Throughout its rich 150 year history, Anheuser-Busch has remained one of America's leading fledgling breweries, producing the two best-selling beers in the world, Budweiser and Bud Light. Anheuser-Busch's industry leadership is carried throughout its operations and resources. Additionally, through its "Responsibility Matters" community giving, "Anheuser-Busch has always believed that doing good by the public and doing well as a company go hand-in-hand."
Thank you for your support!