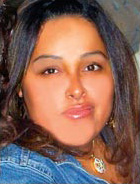 Jennifer Ingram successfully produces and promotes annual fundraisers and special media-targeted events. For eight years, she has helped to increase visibility and market recognition through media such as, Jet Magazine, Unleashed Magazine, BRE Magazine, LA Sentinel, Watts Times, Inglewood Today, 100.3 FM The Beat, 102.3 FM KJLH and Hot 92 Jamz, just to name a few.
Ms. Ingram has a Bachelor of Science degree in Communications from the University of Miami. She has combined her Communications background with her passion for PR, marketing and entertainment in which she has brought a skill-set that is transferable and relevant to TDRBCF and the thousands of women and men they serve.
For four years, she has worked with design firms as a Marketing/Account Manager. Ms. Ingram has also focused on promoting special events for entertainment and charity. She has a strong entertainment background; working with her father, James Ingram and Ingram Inc. She has also worked with well-respected producers, such as Rickey Minor (Minor Productions) and David Gest (Extreme Entertainment Enterprises), where she assisted in the production of the BET Awards and a televised All-Star Tribute to Dionne Warwick. Ms. Ingram is motivated and determined to produce creative and strategic campaigns for the foundation. She is proud to be a part of TDRBCF, an organization that focuses on educating minority women and men regarding Breast Health and Care and the continuous effort in promoting self awareness, detection and early prevention.